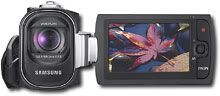 Father's Day, one of the most complicated days of the year in my family. Frugal by nature, my father, John Gagliardi, is quite possibly the hardest man to shop for – he always says: "if it's not on a sale rack, don't think twice about it". So, as one out of the four children that have to buy for him, this raises some issue. What do you buy the man who wants nothing, the man who shakes every gift he gets to guess, and the man who hounds you about getting him anything in the first place?
And speaking of tools, it probably wouldn't hurt if he were a little more organized, so I found this really cool organizer from Cocoon called the GRID-IT! Organizer! I love it, whether or not he'll use it is another story.
I think for the most part I have my dad covered, but if you're still in a bind some other little gifts I thought would be great for all dads are grill lights for summer BBQs, countertop Bose sound systems or you know, pretty much everything from Best Buy- dads love gadgets. I swear my dad could hang out in Best Buy for hours and they have a lot of deals going on right now as well! A new camcorder, home theater system, or even a satellite radio would suffice! Just find the perfect gift that suits your dad and spread the love! Happy Father's Day!!