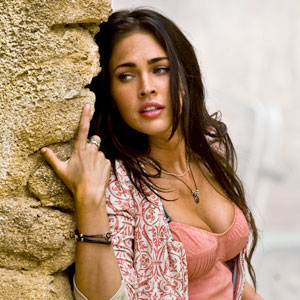 It's one of the movie world's biggest feuds: Megan Fox versus Michael Bay. She calls her Transformers director "a nightmare to work for" with "no social skills at all." He says that "nobody in the world knew about Megan Fox until I found her." She quit, he's replaced her.
But it's easy to forget in all this back-and-forth that other stars have feelings, too, you know. Like Shia LaBeouf:
"I love Megan and I miss the girl," the Transformers star tells USA Today.
He has hope for the future, though.
"Sam and Mikaela [LaBeouf's and Fox's characters] became one character," he goes on to say, "and here [with the casting of Rosie Huntington-Whitely]...You have discovery again from a new perspective."
Another amazing thing from the interview, Michael Bay admits that Transformers: Revenge of the Fallen wasn't 100 percent awesome and flawless:
"I'll take some of the criticism," Bay says. "It was very hard to put [the sequel] together that quickly after the writers' strike."
Seriously, who would have ever imagined something like that coming out of Michael Bay's mouth.
So what do you think, will this fightin' robot crew get their act together for the threequel—or totally not?