Victoria Secret is a huge line of women`s products that are designed to be sexy in one form or another. Their lingerie section is a blend of sophistication and sex appeal all in one. They have a way of making lingerie as beautiful as possible all the while looking extremely seductive. It truly is an art that Victoria Secret has mastered. Their clothing is breathtaking to look at, with each piece looking more glamorous then the next. Even the line of clothing that is toned down, still has an element of innocent sex appeal to it. With so many lines to sort through, there is one for every ones very intimate taste.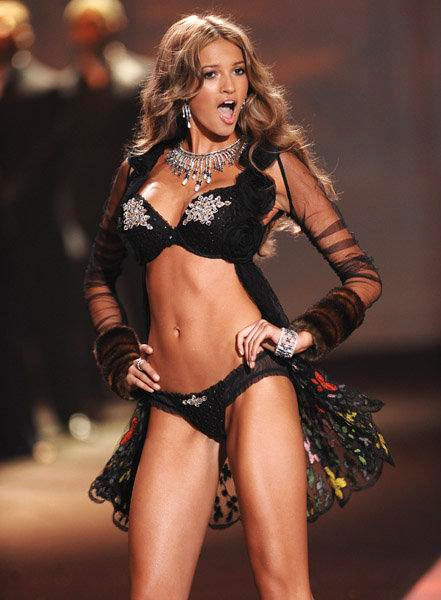 If you are searching for something from Victoria Secret, then you know what they are all about. They have several lines of clothing that are tailored to different kinds of women or the various moods that women might be in. The areas of difference are called; The Bombshell, the flirt, the temptress, the romantic and the sensualist.
The Bombshell is a very seductive line of lingerie. Each piece will wow you more than the previous one. They have done a great job with changing up the area of exposure. On one piece it`s the cleavage that is exposed, and in another it`s the lower back and backside. The mix and match of ideas and concepts is what will want the average women to want a few different pieces. Their colors are mostly dark, using lots of blacks and browns with lace and frilly trims.
The flirt is a line up of very hot looking baby doll designs. These baby dolls are like no other, with each one a little different from the next. Many pieces have a separate garment that drapes over the back and comes with matching bras and underwear. The mix and match of styles range from a one piece slim fitting concept to a two piece. The two pieces could be a panty with a long oversized lacy tank-top, to a skimpy top with matching panty. This section is for anyone who wants their lingerie to be seen by someone other than them self.
The Temptress is a section of clothing that is decorated by lots of cheetah and zebra patterns. The overall look is seductive and racy. They are definitely pieces that are meant to get noticed, as each design leaves just a little something to the imagination. The bras and underwear could be something worn under clothes, but the baby dolls are something that you wouldn't want to wear to bed alone.
The Romantic line of lingerie is both sweet and playful at the same time. The pinks, whites and soft purples give the sweet innocent feel to the look, while the lace, frills and cleavage give it that edge. Each piece is catered to be involved in some kind of romantic situation, making them perfect outfits for; special dates, anniversaries and birthday celebrations.
The sensualist is a lingerie line that looks like it could double for panama wear. The combinations of t-shirts and short sets with full length pieces and then baby dolls over panties or shorts is a way to bring seduction into the innocent role of simply putting on sleepwear for bed. The outcome of the clothing seems to be that it is fairly comfortable to wear and if looking sexy is achieved then it wasn't by accident.